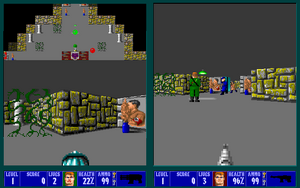 SplitWolf is a cooperative split screen SDL mod by Team RayCast that allows up to 4 players to play on a single PC. It supports both vertical and horizontal splitscreen and includes a minimap function. SplitWolf supports both Wolf3D and Spear of Destiny but does not include any original files, requiring the player to own a copy of the games.
SplitScreen mode - vertical and horizontal
Player skin colors change (8 supported skin colors)
Minimap/radar
Player respawn
Different weapons cause different gibs
Enhanced Schabbs fight
Fully 8-directional enemies and Bosses
End-level status screens for all players
Team damage
Community content is available under
CC-BY-SA
unless otherwise noted.